Kaboodle Gifts LLC was established in April, 2001. We are American owned and American operated in the United States.
Kaboodle Gifts, LLC is a licensed Limited Liability Company which is registered and licensed within the United States of America.
KaboodleGifts.com offers a vast array of gifts for home, weddings, men, women, or children. We also specialize in personalized gifts: the perfect choice for that special person.
At Kaboodle Gifts, we pride ourselves on excellent customer service and quality items.
We offer a wide variety of items to choose from and welcome your business as either a one-item purchaser or as a Christmas shopper filling your gift-list needs with the convenience of one stop shopping and discounted prices!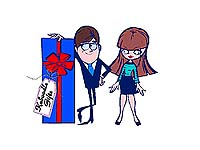 We ship ALL purchases FREE and we don't charge extra for personalization on items which can be personalized. The price you see is what you pay, with none of those extra charges you find on other shopping sites.
We ship only to the lower 48 United States.
NOTE: We are required to charge Georgia State Tax to Georgia residents and orders shipped to a Georgia address.
We also specialize in shipping that special gift to your loved one, making your shopping needs for distant others simple, fast and economical.
We strive to do business in the manner we would like to see it being done everywhere.
Some say it's the old fashioned way.
We just say, "It's the right way."
At Kaboodle Gifts, our customer service is as important to us, as your purchase is to you!
Bottom line:
Quality merchandise, affordable prices, great customer service.
Hours of Operation:
Monday - Saturday: 10am to 6pm Eastern
Sunday & Holidays: closed
Contacting Us:
Please be advised, a timely response to emails during our normal business hours will always be forthcoming. Delays in responses may occur if your email was delivered after normal business hours.
'CONTACT US' Link: This can be found on every page throughout our entire site. You will receive the fastest response when utilizing this form.
If you have any questions or problems:

Kaboodle Gifts LLC
133 Cason Road
Cedartown, GA 30125 USA
Phone/Voice Mail Message System: 706.237.3363